Forks and knives make all the music we need
Veal head goulash which is made only on Fridays, veal goulash that is served with homemade noodles with cheese, sprinkled with bits of fried bacon, and cutlets and sterlet are just some of the few select dishes of Hungarian cuisine which have a hint of Vojvodina. They are some of the reasons why patrons come regularly to Ábrahám Inn, or return every chance they get. In the Ábrahám Inn, you will not hear music, primarily due to the principles set by Ferenc Ábrahám.
Towards the end of Palić, right next to the local road leading to the Hungarian border, this restaurant stands for more than seven decades. It is gladly frequented by local patrons and those passing it by, and lately, by people who don't mind travelling one or two hundred kilometres for the good food which is served there.
Ábrahám Inn exists in Palić since 1938, and it started out as a café founded by József Ábrahám. The Inn was open from 2 am, because the farmers from surrounding settlements met there for a brandy or two before setting out to the market where they sold their produce. Ábrahám worked as a café until 1966 when Ferenc Ábrahám took over the business from his father. He renovated the building, and since then Ábrahám is an Inn.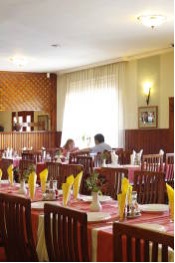 Ferenc Ábrahám worked with his son József until 1984 when he retired, and József Junior only organized weddings in the weekends for the following five years. In 1989, the Inn was closed, and the family did some other businesses, and during that time, most of the family members lived in Hungary. Almost ten years later, in 1999, József Ábrahám reopened the Inn and it is working today, even though he died in 2005. József's wife Eszter and his younger daughter Krisztina are managing the Inn. Krisztina and her husband are the official owners.
This low-key and hard-working family have been avoiding publicity lately, and according to Eszter Ábrahám, they are trying not to show themselves in front of the patrons, or the public.
– There is no need for that. People come to the Inn because of the food, not us. And since it's been long known that Ábrahám serves good and high-quality food, there are always guests here. That's all that matters to us. It is important that we have work, and that every patron leaves satisfied. Being well known is something that we owe to our guests who told their friends about us, and then they passed it on further – explains Krisztina Ábrahám for Caffe&Bar.
Everyone comes to Ábrahám: those living in Palić and Subotica, tourists, business people, families, passers-by and tired travellers from all over Vojvodina and Serbia, but foreigners as well.
– The guests that come most often are business people from Palić and Subotica with their business partners, as well as families who usually come during weekends. Even though reservations are not required, companies normally make them, especially if it is not winter. Palić is a tourist settlement, and it has a year-round seasonality, so we can't always plan how much work we will have – says Kristina Ábrahám and adds that she relies on her extensive experience and inherited work-related wisdom of her forbears- her grandfather Ferenc and great-grandfather József.
Menu of the Inn shows that a good thing should not be changed. It includes some dishes which have been made for decades, as well as recipes that were learned in Hungary and adapted to the taste of local patrons.
My grandfathers philosophy was: "If you can't make enough for your daily bread during the day, you won't be able to at night."
– The base of the menu is mainly Hungarian cuisine, but also the cuisine of Hungarians from Vojvodina. In Hungary, for example, they use spices more profusely, so the basic ingredients almost lose their flavour – says Krisztina Ábrahám and adds that they strictly follow traditional recipes for their dishes. The chefs in Ábrahám don't cook to use up all the supplies, but to make the patrons happy, says the owner of the Inn.
– Anyone who comes to Ábrahám can only get the highest quality. That is why we never look for best deals when we're procuring ingredients or drinks, we need the best and the highest quality. That entails higher costs, more complicated work organization and a precise planning of stock which is quite hard, because we never know how many guests will come and when. The basic condition for a restaurant to work well is to have a trustworthy butcher who can deliver the goods when you need it. We have such a meat supplier in Subotica, and we buy our vegetables in the Palić or Subotica market, or at vegetable wholesale. Our advantage is that my late father and grandfather were excellent butchers and they transferred their knowledge to us – says the owner of the Inn.
While they are talking about their business, the owners of Ábrahám highlight their experience and tradition that they work by, and they illustrate it with the story of their speciality, the veal head goulash. This dish was cooked by the owner's great-grandmother until 1966. For ten years now, Eszter Ábrahám is the master who prepares this signature dish, and she is passing on the secret on to the owner, Krisztina.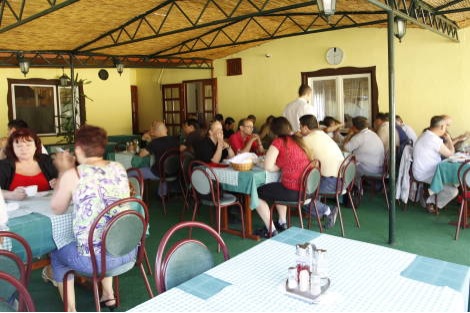 – The secret of this dish is that there is no secret. Each veal head is different, each requires a different amount of water and different cooking time, so the other ingredients get to go in when the meat reaches a certain level of preparedness. You can't write that in a recipe, you have to know it and feel it, and to do that, you need a lot of experience. Two other restaurants in the area tried to make this dish, but they couldn't manage – says Krisztina.
Ábrahám can today seat 80 people inside and 50 on the terrace. They remained true to traditional beverages as well. They do offer Italian and Spanish wines, but the patrons mostly ask for those produced in Palić, and also domestic beer. Ábrahám is very special for its opening hours and their relationship with their employees. That is probably the reason why they hired their last employee over four years ago, and all the eleven of them work as a really good team.
– The Inn is closed on Mondays and that is always the shortest day. We always plan to do so much then, but we rarely manage to. On other days we work until 10.30 pm, and that is based on my grandfather's philosophy: "If you can't make money for your daily bread during the day, you won't make it during the night." We start early on Saturday mornings, and on Sundays we are open until 6pm. That is the day when we work the hardest, and since people can take only so much of physical exertion, they need to rest. They are practically our family, and it is our responsibility to take care of them. Twice a year we have a collective holiday- for two weeks after the New Year's Eve, and two-three weeks in July when we do maintenance works on the building- painting, repairing what needs to be repaired – explains the owner of Ábrahám.
As the owner says, the chefs in Ábrahám don't work to use up all the supplies, but to keep the patrons happy.
When they were selecting the staff for the Inn, they chose the ones who were ready to work hard, who are reliable and trustworthy, and are not holding on to the fine print in their contracts, but are flexible and try to do whatever they can. When it's not too busy, everyone can take a break or run some errands that can't be done when business is as usual.
There is no music in Ábrahám Inn, primarily because of the principle established by Ferenc Ábrahám that "forks and knives play all the necessary music".
– We tried to play music from CDs, but there were arguments between the guests relatively often concerning who liked what kind of music. Since we could not please everyone, we decided to stick to my grandfather's principle – explains the owner of Ábrahám.

Employees of Ábrahám
The effects of the economic recession are felt in this Inn as well, especially when it comes to charging for their services.
– The regular patrons don't come as often as before, and those who came rarely almost don't come at all. The biggest problem is collecting the debt from the companies, and we work with 460 of them. Some of them didn't settle their debt for the previous year. You know, almost 80 percent of our turnover is related to business lunches, so when the companies don't pay, it is not easy to run our business. Then you come to a point when you have to call them, and you feel uncomfortable asking for what is yours. However, it is very significant that the tourist season on Palić is a long one, and the fact that we are next to a road, and many people know of us, so the business keeps running.
The owners of Ábrahám know that the interior of the Inn can't match the other, luxurious ones, but they rely on the decades long experience, the skill of good service, hard work, respect for the employees, tolerance, knowing their patrons and their habits, and most important of all- the fact that the guests know that the food prepared here is excellent, and that is what will keep them coming.
Veal goulash
· 1 kg veal round
· 1 dl oil
· 100 g onion
· salt, pepper, mixed vegetable spice, ground red paprika
Saute the finely chopped onion on oil, add the cubed meat, salt, pepper, mixed vegetable spice and a little water. Slowly saute the covered dish, and when the meat is cooked, add the ground red paprika and finish the flavouring. Serve with noodles with cheese and fried bacon cubes.
Text: Zoran Knežević, Photos: Dragana Đorović